Woodstock, Georgia
, lies 30 miles northwest of Atlanta and is home to 33,000 residents. The city is currently experiencing a real estate market with low-interest rates, which shows healthy movement despite the seller's market. Woodstock real estate is selling for a median price of $499,200 as of 2021 — a nearly 22% increase from one year ago.
As a seller's market, the demand for Woodstock townhomes and Woodstock real estate, in general, is higher than the number of homes available for sale. Buyers need to be pre-approved and ready to strike while the iron is hot when offering a seller's price or risk losing their offer to a higher, faster bidder.
When Woodstock was founded in 1897, it had approximately 100 residents. A century later, that number increased to 10,050. By 2010, it more than doubled to nearly 24,000 and is now home to more than 33,000 residents today.
A growing community, Woodstock residents enjoy art and culture, fine and casual dining options, annual events, and outdoor activities — including hiking, biking, and walking for all ages — without fighting the traffic and crowds in Atlanta and beyond. Here is what you should know before relocating to Woodstock.
The city's green footprint is growing
Woodstock is already rich in outdoor activities like hiking and biking, and recently, the city will launch The Greenprints Project. The project involves the construction of trails in the city's core areas and the Little River and Noonday Creek, and property occupied by the United States Army Corps of Engineers. The plan will also see bike paths installed on roads citywide, with trails connecting to many others in Cherokee County and the cities of Alpharetta and Roswell. The Greenprints Project also preserves the city's green spaces and develops new parklands.
Woodstock is a vital suburb
Woodstock's population has boomed from 10,050 residents to more than 33,000 in the last 20 years. Woodstock has also grown within its infrastructure, goods, and services — downtown is a perfect example of successful mixed-use development. It boasts new housing among new retail establishments and restaurants, and the neighborhood offers a new amphitheater with live music and outdoor recreation opportunities all year long.
Woodstock's sustainability, walkability, and livability are just a few components that have attracted strong
businesses
, including companies specializing in manufacturing aerospace supplies.
Summer concerts offer vibrant entertainment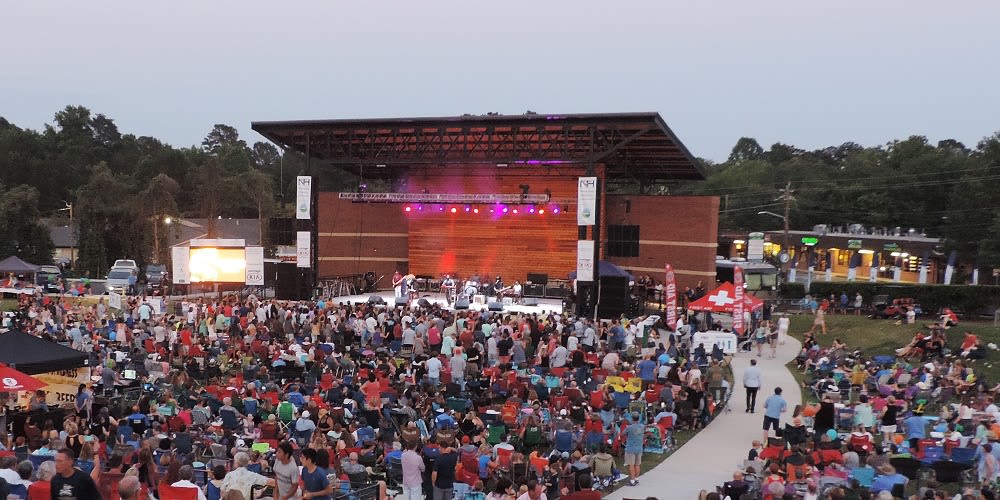 The annual summer concert series runs from June through September and is a favorite of those who own Woodstock townhomes and other properties in the neighborhood.
The concert series
is an outdoor spectacle that features singers, bands, performers, and cover bands. Recent shows included The Black Jacket Symphony recreating Tom Petty and The Heartbreakers' "Damn the Torpedoes" at the Northside Hospital-Cherokee Amphitheater, Grammy Award-winning singer-songwriter Christopher Cross, and Rumours, the Fleetwood Mac tribute band.
Arts and culture abound
In its 20th year,
Woodstock Arts
hosts theater arts, visual arts, music, dance, and culinary arts. Since its inception, art lovers have discovered the venue beyond just residents, especially as it has attracted professional and semi-professional artists. The organization has won nine prestigious Metropolitan Atlanta Theatre Awards and offers classes and camps for theater, performing arts, and visual arts for students of all ages.
Excellent job opportunities
Although Woodstock is a suburb of Atlanta, it still houses many large companies and organizations for those looking to relocate. Cherokee County School District operates 40 schools, while Savant is a U.K.-based construction consultancy operation in town. Primus Builders is a U.S.-based design-build construction company specializing in industrial automation services, engineering, warehouse robotics/automation construction, and more. At the same time, The Good Group offers coaching for executives and managers, to name a few. If you're looking to relocate to Woodstock and find a new position, there are dozens of opportunities to work for a new company or industry in the area.
Woodstock offers a moderate climate
Much of Georgia has a subtropical climate that's humid in warmer months and rarely (if ever) has snow or weather cold enough to support snowfall. Summers are long and sunny — the area can have around 213 sunny days each year — and average an annual 53 inches of rain, which tops the nation's average yearly rainfall of 38 inches.
Family fun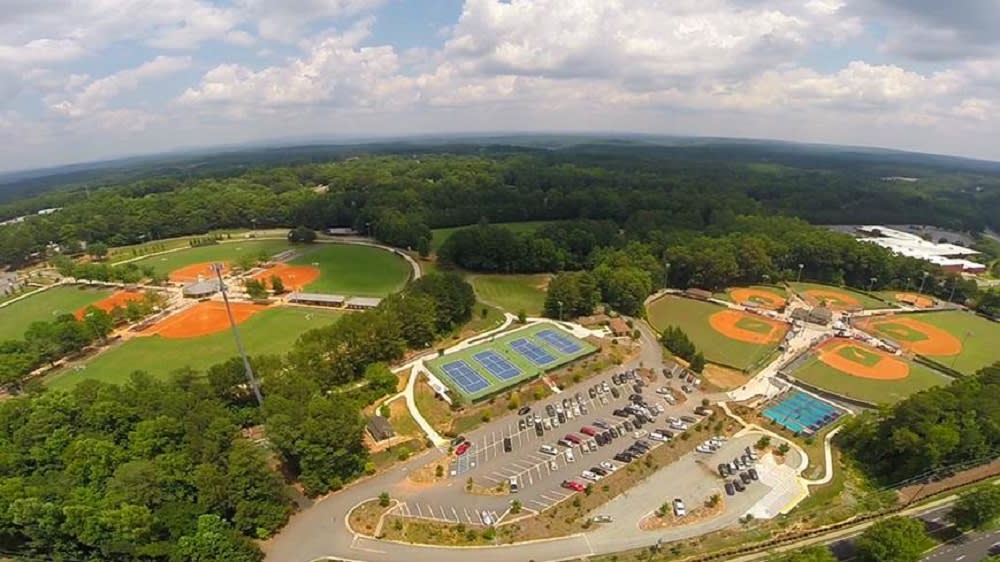 Hobgood Park
For those who love a good walk in the park without having to hike miles, the city's Hobgood Park is the county's largest public park. It features light shows during the holiday season, a few event spaces, a baseball diamond, a football field, kids' playgrounds and rock climbing walls, and two golf courses: Towne Lake Hills and
Eagle Watch Golf Club
, designed by World Golf Hall of Fame inductee Arnold Palmer.
Woodstock schools and colleges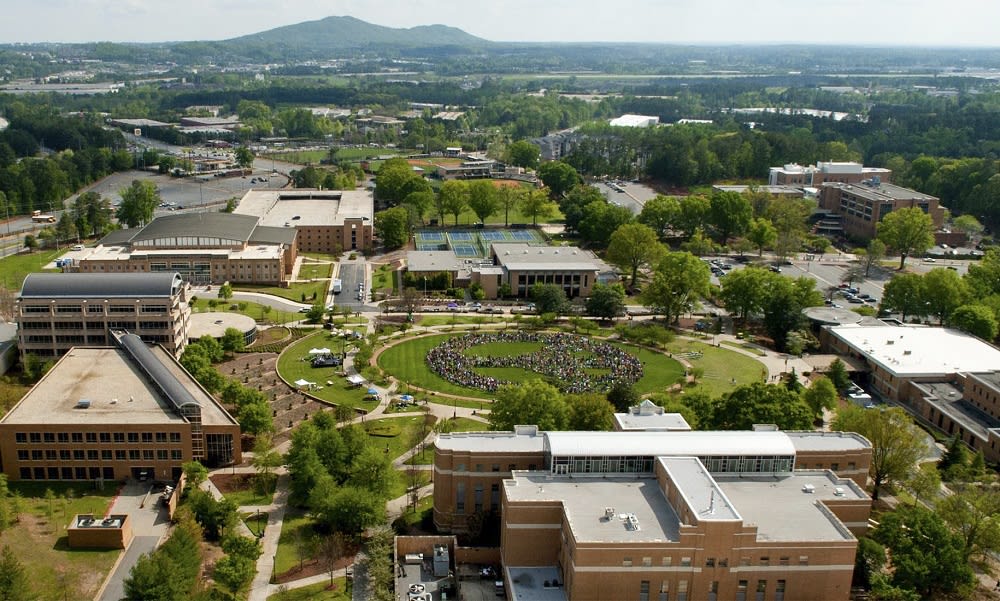 Kennesaw State University
New owners of Woodstock townhomes and single-family properties can send their children to one of the 14 schools in the Cherokee County School District, many of which outperform the state's average. College-age students can opt for nearby
Kennesaw State University
or choose from several other area schools, including Southern Polytechnic State University, Reinhardt University, Brown Mackie College Atlanta, and Oglethorpe University.
Dixie Speedway
The city isn't only full of shopping, restaurants, and concerts. Those who prefer nitty, gritty competition are in for a treat at the
Dixie Speedway
. This oval clay track clay hosts the National Touring Stock Car Races and delights enthusiastic crowds with motorcycle races, monster truck rallies, and live concerts. The Dixie Speedway is Georgia's most flexible entertainment space, offering a 50,000 seating capacity in over 1,000,000 square feet of space for concerts, races, and more. Join them all year long for unique and exhilarating events!
Trusted Woodstock real estate agent
Julie Brittain
is ready to help you find your next home in Woodstock. Julie offers unparalleled service in buying and selling real estate and can craft your best offer for your dream house in the current Atlanta market. Contact her today to get started!